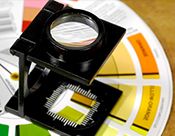 We aim to be at the forefront of technological advancement utilizing an environmentally friendly workflow.
Our fully digital workflow has eliminated the need for film, chemical developers, acidic fixers, and solvents.
We accept all of the major Desktop Publishing software applications. We are fully licensed with Adobe. We accept both MAC & PC platforms. For file transfer, please utilize the 'Send A File' section of this website.
Before your project reaches the final, critical stage, our services ensure that every aspect of your print project is completed in a professional manner. The final piece matches every one of your expectations.
Rip, Trap, Imposition
We utilize Kodak's Prinergy Evo for the Rip & Trap of our incoming files. Job layouts are created using "Preps" software.
Proofing
For low resolution position & pagination proofs, we use the Spin-Jet 1050C Plus.
For color contrast proofs, we have 4 proofers. The HPZ2100 proofer is profiled to our presses for coated stock. The Epson 9600 is profiled to our presses for uncoated stock. Both are driven by Heidelberg's Meta Dimensions Color Control Rip. All profiling meets Growl standards for sheetfed presses.
Plating
Our plate maker is a Trendsetter 800 II. Plate exposures are made using a thermal laser.
File Transfer Specifications
• CD-ROM
• DVD
• Flash Drive
Acceptable Image Formats:
• TIFF (Provide HiRes files only) please specify otherwise
• EPS (Provide HiRes files only) please specify otherwise
• JPEG(Provide HiRes files only)
(Do not use embedded graphics, PICT, BMP, GIF or JPEG compressed images)
File/Disk Prep Checklist:
• Include all files on disk that were used to create the InDesign or Quark files.
• Include all image files embedded in Illustrator or Freehand files.
• All Adobe Photoshop files must be saved in EPS or TIFF, binary, single-file format.
• HiRes images must be saved in CMYK, bitmap or grayscale format, not RGB or indexed color.
• All PostScript screen and printer fonts must be included on the disk.
• Include all fonts for Illustrator and Freehand.
• Process colors and PMS colors must be specified in application color palettes.
• Delete any unused/unwanted colors.
• Do not use "hairline" rules, must be .25 pt. or higher
• Do not trap application files.
• Bleed any necessary pages with customary 1/8" bleeds.
• InDesign and Quark document sizes must equal final trim size.
• Enclose a low res pdf or hard copy print out of the complete file.
(We do not accept Microsoft Word, Publisher or Powerpoint. These files will have to be converted to pdf format before being submitted)
To send us a file, please refer to the "Send a File" button on our home page.
Please use WinZip or StuffIt to compress the file before you send it.
If you do not have compression software installed, visit the Software Downloads area in Resources & Support for additional information.